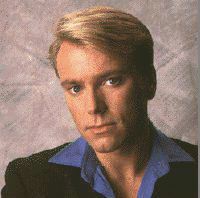 Diese Seiten sind auch auf Deutsch erhältlich!!
---
What's New
05 Feb 02: Review of In Love With Musicals Again. Decided against reviewing Essen Elisabeth; still planning on reviewing Napoleon, eventually.
08 Jul 01: Added track info for Elisabeth/Essen and In Love With Musicals Again to Discography. Still planning to do sounds from and reviews of those and Napoleon....
24 Mar 01: Don't even say it. Really. I feel terrible that it's taken me this long to update the site, but...it has. :( On the bright side, I have my own domain now (*bounce*), and hopefully all the images and sounds are now where they're supposed to be (stupid Tripod!). Basic updates to Discography and Career pages, plus newer Bio, revised list of Sounds (if you want the ones from non-Kröger recordings, they'll be linked from my other sites. Eventually.) and some other minor changes. I hope to find time to write a review of Napoleon, but don't hold your breath. Now, if only I can figure out why the guestbook stopped working....
18 Jan 00: Yeah, yeah, I know. But I've finally gotten started on putting stuff from Mozart! up. Right now it's just my review of the show. More photos and sounds are coming soon; so is an updated bio.
04 June 99: *shock* New stuff at last! Sound clips from Cabaret and the Still In Love With Musical video, a small photo gallery, and some (rather brief) thoughts on the Cabaret CD. Updated the Career page as well.
28 Feb 99: A page about the video of Still In Love With Musical.
09 Feb 99: Sound clips from the Stuttgart Schöne und das Biest cast album.
24 Jan 99: Finally something new! A recent interview about Cabaret. More to come!
25 Oct 98: A page with my opinions on the Stuttgart Schöne und das Biest cast album.
26 Sept 98: Sound clips from Shades of Night. No, Kröger's not on this CD, but Pia Douwes is a goddess, isn't she? :)
14 Sept 98: Joined the Musical Theatre Performers Webring.
07 Sept 98: Finally added an article from around Sunset's opening, translated by Alexandra! There's also yet another Sunset photo on the Discography.
30 July 98: There's now a new photo on the Discography page, with more to come, thanks to Manuela (and Iris)!
28 July 98: The majority of these pages--and all of the important ones!--are now also available in German! As always, many thanks to Iris for all her help!
26 July 98: Added the "self-portrait" that goes with the Questionnaire/Interview from 1994, thanks to Iris (of course!).
13 July 98: Added a few more sounds from Still In Love With Musicals.
04 July 98: First anniversary of my seeing Kröger in Sunset, celebrated by finally adding two more articles.
25 May 98: Two more articles (one Starmania review, one Elisabeth-era interview) added to the Press page.
14 May 98: Primary page rewritten, other changes along the same lines planned.
13 May 98: Thanks to Gina, Iris, and Cheryl (or, rather, Gary!) there is now a page about and sound clips (two, with one or two more to come) from Still In Love With Musical.
03 May 98: Ulf's photo has finally been uploaded, on a new Random Press Mentions page.
26 Apr 98: Two new articles added to the press page, and more on the way.
05 Apr 98: Added several articles, thanks to Ursula. Many files (all graphics, many sounds) were moved to different URLs, so if a link is broken, please email me.
---
---
Disclaimer: I am in no way connected to Uwe Kröger, or the fan club; therefore, I cannot pass along messages, and I don't know any more information than what's been posted here. So please don't ask.
---
---
NOTE: These pages are best viewed on a Mac; Windows tends to do Bad Things to the colours and images. Also, the pages are becoming graphic-intensive; you may wish to turn your images off when viewing them over a slow connection.
---
webmaster@eljen.net