Still In Love With Musical
A concert with Pia Douwes, Uwe Kröger, Viktor Gernot, and Marika Lichter
Recorded live in Vienna on 18 May 1997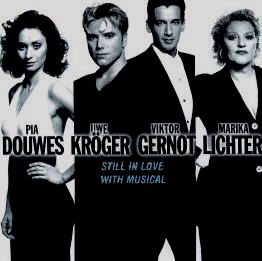 I had been longing to get this recording for about nine months before I finally did--since before it was even released, in fact! My first, immediate impression (besides "it's only one disc!"--it's only about 2/3 as long as the first In Love With Musical recording is) was, in the words of someone I knew at college, that "Pia Douwes is a goddess!!" I adore her. She's not perfect, of course, but I love nearly everything I've heard her do...and this concert is definitely no exception. Viktor Gernot is also excellent on this album, as usual. As for Kröger....I feel like this just wasn't a good night for him, or something. He can do so much better, I know he can; maybe he was sick, or tired, or just having a really bad day. Oh well. Overall, there aren't as many tracks on this CD that really "grab" me as on the first, but there also aren't as many I strongly dislike. It's a little hard to tell, having only listened to SILWM a couple of times so far, but I think that in general I prefer this album. If only I could insert, say, Dora, or Inside Looking Out, or Es wird dir gutgehen, morgen....
The concert begins with all four performers singing Strike Up the Band. I must admit, I have never much cared for the Gershwins. And for me, this song will always be connected to one of my other favourite performers, Australian baritone Anthony Warlow, who sang it on television once. I can't hear this song without hearing him singing, in my mind. So I really have nothing to say about this track. Oh well.
My knowledge of older, "classic" shows and composers is regrettably limited. So three of the next four songs on the CD are ones I wasn't familiar with before, starting with Who Wants to Be a Millionaire, a Cole Porter song from High Society, sung by Viktor Gernot and Marika Lichter. It's...all right, and the singers are fine, but this track is probably not something that I'll grow to like a lot. Sometimes I love Porter, sometimes I really don't. *shrug*
I could do without Kinder verstehen, Michael Kunze's translation of Children Will Listen from Into the Woods. There's a portion that I don't recognise, melodically, but I'm not really familiar with the non-show version of this song.... Mainly, I just don't like Lichter's voice. It doesn't do anything for me, and frequently gets on my nerves. She sounds off on some of the higher notes, too.... It doesn't help that this is one of my favourite shows, I'm sure.
Music That Makes Me Dance, from Funny Girl. I can't believe they let Debbie Gibson sing this song! *ahem* I don't think I'd ever heard it before, but I can't find anything to complain about in Pia Douwes's version. Yes, I'm biased in her favour. Even when she goes a bit shrill (towards the end of Mijn droom in Les Mis, or on part of Hier sta ik/Here I Stand, for instance), I love her. And I don't notice any shrillness here; it's lovely. She's got a very warm non-belt lower register, which gets heard here.
Gernot follows her with a second Porter song, It's All Right with Me. This one, I like. A lot. Even if it does call to mind old TV commercials.... Gernot sounds fabulous, as usual. Enough so that I'm glad Anthony Warlow didn't include this one on his wonderful swing album, since I wouldn't want to have to compare them! :)
Uwe Kröger's first real appearance, as with the previous concert, comes rather late. And it's just him and Gernot doing the Starlight Sequence. I don't like Starlight Express in the first place (although I found myself really liking Kröger's version of the title song, on Favourites). The English lyrics weren't good, by any means, but the German translation could use a bit of work as well, it seems. Oh well, it's better than some I've heard.... Gernot sounds quite good; Kröger, almost more-or-less acceptable but most definitely not up to the level of his earlier recording of Starlight Express. Or, indeed, most of his other recordings in general.
*sigh* Nobody's Side. Have I mentioned how amazing Douwes is? Oh, and Kröger doesn't sound bad either. :) I still don't understand why they made this song into a duet, but with those two, I don't much care. I'll take any chance I have to hear them singing together (even that awful song on Living Water!), and this has the benefit of being a song I like as well. The arrangement's a little thin, but it's really only a problem for me at the beginning. Douwes's pronunciation is perhaps a bit too colloquial; "Ah" instead of "I", dropping final "-g"s ("what's goin' on around me..."), that kind of thing. Kröger's pronunciation's much better than I was expecting; he's still devoicing all final consonants, but it's not as obvious here as elsewhere. However, I'm confused about one thing: he alters the beginning of every...third line, I guess it is. ("The one I should not think of/keeps rolling through my mind/and I don't want to let that go", for instance) Once, for variety, I can understand. But every time? In any case, this track is amazing!
I admit it: I hate Rent. I especially hate Seasons of Love, possibly because I've heard it far too many times, and definitely because each time I hear it, it takes forever to get the song out of my head. This version is probably better than the Broadway recording (I don't care enough to make myself find the cast album and listen to it again!)--and it's certainly far superior to the time I heard six cantors from local synogogues singing it! :) I still hate the song. But...if it will get people like my younger sister to listen to--and possibly like--performers like these, I can handle having it on the CD.
Ah, City of Angels. A show I most certainly don't hate! I love it, in fact, although neither of the productions I've seen did justice to the material IMO. This section of the concert begins with the wordless Prologue; what is there to say about it, other than the fact that it's...what you'd expect from these people: good, strong. Fun.
What You Don't Know About Women is among my favourite songs, I think. And I still prefer Kay McClelland and Randy Graff; in addition to not caring for Lichter's voice in general, it doesn't blend well with Douwes's. Plus, like on the Lichter/Hakvoort duet from the previous concert, they make changes in who sings which lines and some of the harmony, which bother me. The changes aren't as drastic as those I remember from I Know Him So Well (which, admittedly, I haven't listened to in over six months, I hated it so much), but I know the song so well that I do find them a little annoying. Still, hardly a track I expect to skip often!
When I heard that one of the songs chosen was Komisch/Funny, I was very glad; I thought it would provide Kröger a chance to give the performance of this song which he failed to do on Favourites. Sadly, that's not the case. The arrangement is much better, but...it's still missing something. It's lacking, among other things, the forcefulness I like for this song. I know he can do cynicism, sarcasm, disillusionment, all that lovely dark stuff; I've seen and heard it for myself, in Sunset. So why doesn't he get it right here? And why do the first verse in German, but switch to English for the rest?!? Alternating verses, or half-and-half, I can see. But just a few lines in one language, and the vast majority of the song in another? Seems...pointless. I think I'd rather have heard him do the full song in German, in case the language is part of what prevents him from giving the performance he could. At any rate, this is better than the studio version, but I can't help feeling he's capable of much more.
Again, I could do without Mit jedem Atemzug--Lichter singing With Every Breath I Take. I don't dislike it as much as I do Kinder verstehen, but...I want to like her, but I find I can't, really. A shame.
Double Talk is, surprisingly, the biggest disappointment of the CD, for me. I think of Gernot more as a Stone than a Stine (possibly due to the amazing You're Nothing Without Me on In Love With Musical), so when I first heard he did this song, it seemed wrong to me. But I didn't have to think about it long to start getting excited about the idea; as with Kröger and Funny, I think he could do this so very well.... I was surprised to find that Gernot has an accent on this song. Not very strong, certainly, but far more than he usually has. It's also slower than I like this song to be. And...something's missing. The proper feel for the music, phrasing, perhaps? The character's excitement? I'm not sure; I'll have to think about it. Mostly, though, the energy level is simply too low. Not a bad performance, certainly, but not as good as it ought to be, from Gernot.
Douwes would make such a fabulous Donna/Oolie! Excellent You Can Always Count on Me, especially in English. About halfway through the track, she switches to Michael Kunze's translation, which doesn't sound quite right to me. Possibly because this music, in fact the whole show, is based on such "American" styles, it simply doesn't "feel" right in German for me. At any rate, I REALLY wish they hadn't cut half this song!! And they didn't even cut whole verses; they took some lines from one, and combined them with lines from another. Which messes up the rhymes; "or else I attract/the guys who are longing to do my hair" goes with "a matter of fact/if you want an ill-fated love affair//Though I made a pact/to carry out research before I care", not "I don't need a map/I naturally head for the dead-end street," etc! She ought to have the chance to do the whole thing. More, I want to hear her do it all!
The Epilogue, like the Prologue, is suitably fun. Not really a whole lot one can say about these two songs, really. :)
I suppose I should mention that I really really hate Rocky Horror, so I wasn't thrilled to learn that this concert, too, contained a song from it. I'm Going Home sounds prettier than I was expecting, for that show, but.... As mentioned earlier, Kröger doesn't exactly sound his best. So while I'd probably grow to like this song a bit better (or, rather, to hate it less) than Sweet Transvestite, he sounds much better on the latter song. Oh well. Neither are things I would be inclined to listen to regularly, in any case.
You Are My Home is one of my two least favourite songs from Scarlet Pimpernel (note, people who put together this CD label: *one* T in "scarlet", and *one* L in "pimpernel"! And the lyricist is *N*an Knighton, not "An"....), and not even these performers can save it for me. In fact, I strongly feel that the song should be cut from the show, and replaced with something more stylistically appropriate. At any rate, this confirms my suspicion that Douwes could out-sing Linda Eder at any of the songs Wildhorn's written for her, but she can't make me enjoy this particular example. Just doesn't work. But then, it's an awful song anyway, so who cares? :)
The performers seem to be doing another "theme" set, because next is yet another "home" song: Home/Somewhere Over the Rainbow. (The first song, although not specified on the CD liner notes, is from The Wiz.) All I can say about this is...um...Kröger and Lichter...well. There really isn't anything I can say that's positive, because I really hate this track. Sorry. I don't like the songs, and I don't understand why they combined them--stylistically, they're completely different, and the switch from one to the other isn't at all smooth.
The concert--or, at least, the CD--ends with all four performers doing It's Hard to Say Goodbye, and quite well, too! This track is, quite simply, a lot of fun. Great way to end the CD.
---