Article in Time for Musicals, October 1997
---
Thanks, as always, to Iris for providing me with this article--the original, no less!
And yet more scans to go with it. :) This time, the translation is mine,
and I only spent about an hour on it,
so there are bound to be mistakes here and there.
Occasionally I'm using what I thought was a correct translation of the *thought*
behind the phrase, rather than what my dictionary actually says,
so some inaccuracies may creep in there, too.
---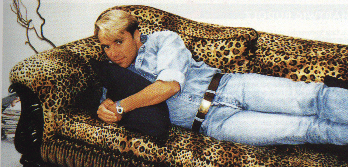 The rehearsals are proceeding apace, the tension before the premiere mounts: on 05 December the curtain rises for the first time for the romantic musical Beauty and the Beast. As a Disney animated film, the story of the uncouth Prince who gets transformed into a terrible Beast by an old woman has already broken film records. The musical, which can currently be seen in London, is its equal in every respect. Awaiting visitors in Stuttgart is not only a gigantic stage design, but also a fantastic lead performer: the good-looking Uwe Kröger will transform himself into the hideous Beast every evening.
And the likeable 32-year-old is really no newcomer on the musical stage. He had his debut in Les Misérables, before he was in Starlight Express, and celebrated his first great breakthrough as Tod in the show Elisabeth. Finally, as the GI Chris he captured viewers' hearts in the worldwide hit Miss Saigon. However, Uwe Kröger can't wait for his first entrance in Stuttgart: "Beauty and the Beast is one of my absolute favourite shows, and I'm absolutely delighted to be allowed to play this dream role."
Actually he must have guessed years ago, because an astrologer prophesied to him a career at a breathtaking speed, right? The musical star laughs: "That was truly predicted to me, but I prefer to take my life into my own hands. After all, nothing is just sent to you; rather, one must work hard for it." And a lot of work has really accumulated for the 32-year-old. Besides Beauty and the Beast, the talented performer has just recorded a CD. On Favourites he sings his personal favourite songs from various musicals.
But he doesn't have a second career as a musician in mind: "I am a child of the theatre and need to act. What would tempt me," he says jokingly, "would be a large television production. Admittedly, because of my contracts my time is very limited." The young actor has plans enough--doesn't his private life suffer because of it? "Absolutely not," defends the 32-year-old. "For more than a year I've been in a stable relationship, which is very important to me," reveals Uwe Kröger, although he doesn't yet have any concrete plans for a family. "At some point I would like to have children, preferably two. At the moment, however, my career won't allow this dream to be realised, and under absolutely no circumstances do I want to be an absent father."
---