Interview with Andreas Luketa in musicals, June 1997
---
This interview was very kindly translated for me by Sonia,
who offered her help before either of us realised just how much text
was in those four pages!! I've done some editing--mainly
attempts to make the English feel more natural to me,
although I know I've failed in some places--so any major errors should be attributed to me,
but the vast majority of the actual work was hers.
Thanks also to Iris for her help with a couple of the more confusing idioms!
---
musicals: Last night the International Musical Award Germany, or IMAGE, was awarded, at which you were honoured as the best (male) performer for the role of Joe Gillis. What impression did this evening leave with you?
Kröger: I was surprised at how professional it turned out to be in the end, because after all this event was organised by private initiative. Naturally I thought beforehand that it would be great, but I never assumed that the organisers would be able to mobilise all the award winners. Although we are very different from each other, not only has each shown their own huge talent onstage, but it was also evident that everyone thinks the same way and pulls together. I found this very exciting, even if I would have preferred getting my prize by mail (embarrassed smile). I would have looked at it at home the whole evening, but as it was I had to wait, very agitated, until the end of the ceremony.
musicals: The day before the ceremony, the closing of the Sunset Boulevard production was announced. Certainly it was a strange feeling for you to be awarded for your performance just one evening later.
Kröger: The timing was very peculiar. Friday evening we were told that the show, like in New York and London, would be closed. The early date, May 31st, particularly shocked all of us. To be fair, we will be paid until the end of the regular term of our contracts, although this is not always the case. The situation does not concern only the actors or the play, but also all the other employees of the production and the offices of Really Useful in Wiesbaden. More than 150 people are suddenly losing their jobs. With this in the back of my mind, there was an oppressive feeling to last night.
musicals: In your opinion, why didn't Sunset Boulevard work in Niedernhausen? Did the less attractive location, in the middle of nowhere, not also play an important role?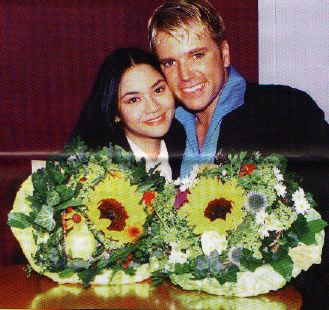 Kröger: I think that you cannot talk about "not working" with Sunset Boulevard. We had a really superb audience, sometimes more, sometimes fewer viewers, but in general and especially on weekends we had full houses...
musicals: ...but we also heard about houses of around 50% of capacity during the week!?
Kröger: During the week the performances were less well-attended, but on weekends it was always sold out. I have to say that I saw Miss Saigon last week, where the number of visitors was similar according to the size of the house and the venue. I think that concerning Sunset Boulevard, it is neither the fault of the show nor of the performers. Each evening, and this is no exaggeration at all, we had standing ovations. We always had a lot of fans in the sense of theatre enthusiasts, who also came to see us multiple times, because they loved the show. A dislike of the show is out of the question and the Rhein-Main area cannot be the reason, because many visitors came from far away.
I think problems were caused because an English company had come to Germany and had thought they could do musicals here according to the well-tried British pattern but without really knowing the German market. The stubbornness according to the motto "We do it all alone" apparantly was the biggest deficiency. I suspect that bad investments were made and the high costs did not result from the production itself, but from many unlucky circumstances like restructuring and miscalculations by the marketing department.
musicals: There are rumours that other productions will be closed too for financial reasons or because of small audiences. In your opinion, what do the recent problems of musicals in Germany result from?
Kröger: One aspect is that people got a little bit more musical-experienced and more critical. Eleven years ago, when Cats came to Germany, everybody was thankful to that big production "from Broadway" and people flocked to it. Then Starlight Express, the Phantom of the Opera, and many more arrived. Meanwhile, the audience surely can better judge the quality of a musical in its context. Another aspect is that of course some time or other, the audience runs out of money. Before, you could decide between two, three musicals--today we have so many shows, how can a family of four afford this? A musical weekend sometimes swallows up almost a whole month's salary. In Germany we don't have a Broadway, say a street with countless theatres. Here, anyone who wants to see several musicals inevitably has to travel. And in that case, if "only" 600-800 visitors--and this eight times a week--attend a certain musical theatre, this is incredibly many.
musicals: Besides the IMAGE Award, you have already been elected four times in a row by the subscribers of our magazine as "Best Performer of the Year". How do you feel about this honour--proud, or doubting that you perhaps weren't the best among all the artists on German stages for four years, but were chosen above all because you have a very big fan club?
Kröger: Basically, I think that each of us in the German musical scene who has managed to create a part and play it constantly actually deserves this honour. I was lucky to play many parts, but I had to work hard for them. The success of a play or of a performer rests with the audience alone, because it cannot be influenced at all. You cannot buy anybody in any form, neither a fan nor a normal theatre-goer. I like that very much, although on the other hand it is very brutal. They love you and they hate you. I believe that the musical-scene and the musical-boom would not even exist without them. When I was in Amsterdam or even earlier in Vienna, although only an understudy or swing, I got letters from fans, and there were people who came just to see me performing in a certain part. This fourfold honour is a big gift to me, an affection, and I'm proud of it because it is a big, big, honour.
musicals: Let's go back five years. In 1992 you played Ziggy in Starmania at the Aalto Theatre in Essen. After that you got the Viennese engagement in Elisabeth and in rapid succession followed engagements in the original casts of the German premieres of Miss Saigon and Sunset Boulevard. You appeared in many TV shows, in Austria especially you had a lot of press, and you became well-known very fast. In these five years, what unfavourable changes arose in your life with the career leap to being a musical star?
Kröger: As a musical artist you make your hobby into a career and it is a dream to pursue it in this way. The dream is not to become a star--this is just a cliché. We do this job in order to be on stage. I wanted to be a musical performer--if I am called a star, it is a big honour, but fame is fleeting. But every coin has its other side and somewhere a turning point happens to some spectators, where the enthusiasm for the person on the stage suddenly takes a turn into his private life. For all of us who were in Elisabeth, it was a completely new experience that every night we had so many people at the stage door. Therefore, we had to learn to cope with those people, patiently giving them autographs; this is sometimes strenuous, as of course you had to listen and you wanted to be fair to everybody, which you cannot always handle, because you are perhaps tired or sick. A kind of pressure starts that does not end with the performance, but you have to "work" after the performance as well. It also starts getting on one's nerves, if you are still sleepy in the morning and you want to go shopping and before you have paid for the milk, you must give autographs and get photographed. The more you get known, the more interferences with your private life occur. This is too close for me, and as I am an honest and open-minded person, very often I was hurt by those things.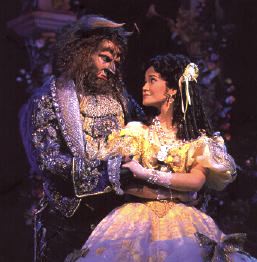 musicals: The more you get known, the more you are in the critics' line of fire. My review of your last CD Favourites has caused strong reactions among many musicals readers and fans. How well can you handle critics, how much are you hurt by negative reviews?
Kröger: First of all, I very much appreciate your asking this question in an official interview. In principle I find reviews highly important and interesting, even though they always reflect just a personal opinion. I always read them and I'm the kind of person who often takes a lot of things personally, even if I don't want to. Except, when a review is below the belt about physical things or speculations, I don't find this professional but offensive, because I am attacked as a person. That might be interesting for a column, but I did not find it funny anymore and actually you hurt me a lot.
musicals: In my review, I cited out of an interview in the newspaper Bild, because I was so bewildered and shocked that you told the press such private concerns. But afterwards I heard from you that you never gave this interview and that I caused you bad memories through this quote.
Kröger: Generally, you have perhaps forgotten that you should not trust this paper. I never gave this interview to the Bild, and everything was a big mess, where other people got involved as well. As a result, a big private crisis arose. I was quoted wrongly many times--other people would sue for this. I don't do it, because I think that this honour will make it worse; I don't pay tribute to those people. Without going into details, I want to say in general that private life is sacred for me and I think every journalist and also every fan should protect this.
musicals: In my opinion, the song Diese Nacht ist so sternenklar is an absolute low point on your album. What was in your mind, recording this Evita title as a schmaltzy pop song of the '90s?
Kröger: The idea for this song came from my band Beat 4 Feet, whose background has nothing to do with musicals. The guys heard the song and they saw a possibility for a number in the style of a "Bacardi-summer-song". A whole concept of the album--creating musical songs in an unconventional way--was new and risky; we chose this song. I found it a witty idea and therefore I did it. Actually, that album contains more than just this song, which often becomes something of a problem: *One* song just isn't representative of the entire album. There are many other tracks on it, which really have something to do with me.
musicals: Critical voices, readers of our magazine, and I feel sometimes that you are collecting leading roles of musicals. This feeling crept up on me for the first time when, two weeks after the premiere of Miss Saigon, you participated again in the auditions for the Viennese Die Schöne und das Biest production, although you had reported before in various interviews that Chris would be your highest dream role.
Kröger: Concerning the acting, I actually grew up in Berlin and even if I am doing musicals, I am actually an actor. Look at those actors, how many premieres they have each year and how many different roles they perform at the same time. I am not one who collects leading roles and I did not draw up a ten year plan of what I could play. Time and again during my education I got to know roles that appealed to me, for example in Les Misérables, and if it turns out that I can audition, I do it. The Beauty audition was another story. I was allowed to quit the Elisabeth production in Vienna for my engagement in Miss Saigon as a result of fair dealing. Of course, Vienna wanted me to come to the audition for Beauty, therefore I had moral obligations to audition. Because of the timing, this engagement could not have worked out.
musicals: Yesterday Willi Welp, as presenter of the IMAGE-Award, referred to the importance of the German translation. He said that however good the music might be, it is only the text that gives the artist an opportunity to interpret it the right way. You told me yesterday that you give 150% onstage, because you believe that the spectator has the right to see a perfect show considering today's ticket prices. How did you feel in Miss Saigon when you had to interpret the failed German text of Heinz Rudolf Kunze and you performed the premiere with such an international ensemble that the spectator could understand perhaps 30% of the text?
Kröger: This is a tricky topic. Sure, the better the German of the performers, the better it is in the end and you can also act more honestly. Last night at the IMAGE ceremony I noticed again how terrific it is if you are able to seize the German language and how expressive it can sound. Now performers come to Germany and they have to learn German in a very short time. I admire everyone who manages to learn so much phonetically so quickly. Many Filipinos are very talented and some Americans speak German with almost no accent, even if they still cannot express themselves in this language. You cannot reproach the performers for that because such a crash-course in German is hard work and everyone deserves much credit for this. Last Tuesday, I saw a performance of Miss Saigon in Stuttgart, and for the first time I really understood the Engineer through the performance of Jon-Jon Briones. He worked so well with the text that I thought: Finally! In the case of Miss Saigon there was also a bad translation. Kunze had tried to find a very close language to the original, in which he certainly succeeded, but to do that you should also understand the context of the language in order to get the sense across. There's a lot of jargon used--and you should first be able to understand it, before you translate it.
musicals: In a recent interview you mentioned that performing in Elisabeth in Dresden is tempting to you, even if you have already performed Death more than 500 times, and that you could imagine a return to Miss Saigon as well. Is this not a mere copy and bare of every artistical demand?
Kröger: Each of these roles is a dream role. But in between you need a break: after having performed a certain role for a whole year I am always happy to feel that I have grown in it. But then, the actor in me breaks out and says: "Now you must do something different so as not to fall into routine". Yet those roles will always stay in my repertoire--as it is in opera and in acting. Chris is a terrific role, the music is so beautiful, and also Death is a dream of a role, so that I would always enjoy taking over those parts. I have never finished an engagement because I did not enjoy the role anymore, but because I wanted to work on myself.
musicals: A propos Tanz der Vampire. It is rumoured that somebody has offered you a role, but you declined it, as it was not the leading part. What is the actual state of the affair and in general what do you think about using old song material for new musical? We have learned that at least the Jim Steinman hit Total Eclipse of the Heart (years ago a smash hit for the performer Bonnie Tyler) should appear in the show.
Kröger: I do not have an engagement there. I did not tell anybody that I did have one and up to now I have never given an interview on that, although something to the contrary appeared in an American newspaper. Up to now nobody has offered me a role; therefore I could not decline it. On April 21st I have my very first singing and acting audition in Vienna with Roman Polanski, honestly! I am somewhat surprised at the "re-use", as till now I didn't know about this. I find it strange indeed, somebody copying his own songs. In general it is dubious, incorporating such a hit into a musical.
musicals: It is already a nice tradition for two of my best friends to first mention after a London trip: "We have seen Uwe Kröger again". Apparantly you keep yourself informed through many theatre trips. Which productions have made particular impressions on you?
Kröger: In general I should say that I made my career out of my hobby, and I have seen many productions and also colleagues due to love of the theatre. When I go to the theatre, I feel like the "simple" audience. I sit down and when something is going on onstage, I let myself fall into it, I am in the middle of it and I am very enthusiastic. Several years ago in London I saw Blood Brothers with Kiki Dee. I think this is an excellent production, there is so much acting onstage, the story is very lovely and I cried my eyes out. In Germany, unfortunately, this show would probably not succeed, because it is very English, relying largely on accent. Recently, I have seen the new production of Jesus Christ Superstar in the West End, which I found excellent because of the set design. I was enthusiastic about the whole story. During my last visit to London, I also saw the new version of Martin Guerre, but I didn't like it too much, because I missed the mystery of the film Sommersby. The musical anticipates the incidents from the beginning. It is spelled out for you and not exciting at all, because you know very well that it is not him and that she knows about it. I somewhat missed the thread running through the story and I found it too confusing. However, the music is very beautiful, although for me Les Misérables and Miss Saigon are clearly the masterpieces of Boublil and Schönberg. I was very enthusiastic about the Duisburg production of Les Misérables, although I performed very often in Les Mis.
musicals: If five years from now we meet again for an interview, what would you like to have achieved by then in your career?
Kröger: I am not someone who plans ahead, but rather someone who decides from the guts. There are colleagues who know very well what they want to do in the next three years; I am not like them. Anyway, I hope that in five years I can inform you about excellent roles and excellent plays and that I was simply able to work.
---